We Are Here To Help
Weddings are one of the most important events in a couple's life. Unfortunately, planning a wedding can become a stressful endeavor! The Grecian Center is here to help alleviate that stress.
Planning the details of your wedding should be as exciting as the wedding itself. The Grecian Center can provide you with tools to organize the big picture. We provide you with advice on how to designate responsibility for wedding costs, create a wedding budget that fits your needs, and a detailed timeline for planning certain aspects of your special day.
The Grecian Center also offers helpful information when dealing with the fine details. We realize the fine details are what make an event even more memorable. We offer suggestions on building a bridal registry list, addressing important details about wedding etiquette, and selecting the best entertainment for your reception.
Please feel free to view and print out any of our planning information below. Contact us if you have additional questions about planning your special event!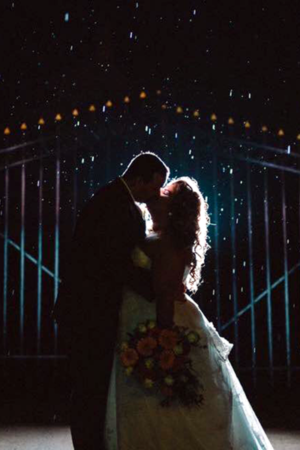 Who pays for what?
The answer to who takes on the financial responsibility for the wedding is not as clear as it once was. The bride's parents are no longer expected to carry the brunt of the expense.
The bride and groom and both sets of parents should set up a meeting to discuss the upcoming plans and how payment should be distributed.
Below is a list of how financial obligations have traditionally been paid.
Groom's ring
Groom's wedding gift
Wedding gown, veil, & accessories
Trousseau
Flowers (ceremony, reception, and bouquets for attendants)
Photographs
Video
Reception
Church/Chapel rental fee
Ceremony musicians/soloist
Bridal party transportation to ceremony & reception
Invitations/postage
Lodging for out-of-town attendants
Ceremony rentals (aisle runner, candle holders, etc.)
Bride's attendants' gifts
Bride's rings
Bride's wedding gift
Premarital class
Marriage License
Flowers (bride's bouquet, mothers' corsages & boutonnieres for men)
Gloves & ascots/ties for men (if not included in rental fee)
Lodging for out-of-town attendants
Clergy Fee
Alcohol/Champagne
Groom's attendants' gifts
Honeymoon
Rehearsal dinner (optional)
Your wedding budget
Difficult as it may seem, it is very important to establish a budget for your wedding, regardless of whether you or someone else is paying for it. Keeping track of expenses makes it easier on everyone and serves as a ready reference. Click here for a budget that includes all the key elements for today's wedding.
Bridal Registry Basics
Make a list of things that you and your fiancé already own that do not need to be replace. Browse through catalogs together, noting what you like and what he likes. If he's willing, visit stores together, paying attention to colors and styles that both of you like (If he's not interested in browsing with you, go alone!). Next, discuss the type of entertaining that you both like to do. Is it casual buffets on snack tables and backyard barbecues or more formal, sit-down affairs? Now it's time to make an appointment with a registry consultant. Try to go when the store isn't crowded and you're not in a hurry.
Meet with the salesperson who will not only help you coordinate patterns but will also make sure the number of items on your gift list matches the number of guests you're planning to invite to the wedding. Many stores will keep track of what you select electronically, enabling them to print out a list once you're done. The consultant should also make sure that the items you select cover all price ranges, beginning as low as $25 or $30. Make sure you register at only one store; that way you will avoid gift duplication.
Tableware

8-12 place settings of formal china:
Dinner plate
Bread and butter plate
Salad/dessert plate
Cup Saucer

Additional (optional) pieces might include:

Soup bowl
Vegetable bowl
Medium platter
Gravy boat
Sugar bowl and creamer

Informal, casual dinnerware:

Dinner plate
Soup/cereal bowl
Salad/dessert plate
Beverage mug

Flatware

Think carefully about whether or not you want sterling silver flatware. It's very costly and probably not something you would use every day. Be sure to register for as many settings of flatware as you have tableware:

Dinner fork
Dinner knife
Soupspoon
Salad/desert fork
Dessert/teaspoon

Additional, optional pieces:

Hostess set (serving utensils)
Extra teaspoons
Extra salad/dessert forms
Salad serving set

Stemware

You should register for at least the same number of glasses as you have place setting of china, but ideally, you should have more than that for parties. The basics would include:

Water glasses
Rocks glasses
Wine glasses
Champagne glasses
Cordial glasses

Pots and Pans

When selecting these important kitchen items, pay attention to quality. Some may be very inexpensive but they often don't distribute the heat evenly. Many stores carry boxes sets of pots and pans that may include other kitchen basics, but the minimum to register for should include:

Small (10") frying pan
Two-quart and three-quart saucepans
Eight-quart pan with lid
Roaster
Cookie Sheets

Basic small appliances:

Electric can opener
Hand mixer
Blender
Coffeemaker
Coffee grinder
Food processor
Toaster or toaster oven
Microwave

Cutlery

8 or more steak knives
Knife block
Kitchen scissors
8" chef's knife
Bread knife
Paring knife
Utility knife
Knife sharpener

Bed/bath linens

Sheets and pillowcases (at least 3 sets)
Comforter
Bed skirt
Pillows
Blankets
Towels
Wash clothes
Bathmat
Guest towels
Shower curtain

Miscellaneous Items

Measuring cups
Measuring spoons
Mixing bowls
Spatulas
Cheese grater
Washcloths
Towels
Placemats
Choosing the right music
Your choice of music is very important when setting the tone for the reception.  Whether it is a live band or a disc jockey, it will be one of the most important decisions you'll have to make when planning.  Out of all of the elements that go into a reception, people will judge the success of your reception based on the entertainment you provide. But how do you go about it?  Ideally, if you've attended a recent wedding reception where you personally observed a good disc jockey or band, your decision would be easy.  However, this often is not the case.  Ask family and friends who they have used.  Ask the manager of the venue that's hosting your reception who they recommend.  Banquet facilities see all types of bands and disc jockeys every weekend; they know who the good ones are.
Know that most DJ companies employ many disc jockeys with varying degrees of ability and specialization.
We suggest you ask how many years of weddings the band or disc jockey has experience with.  Ask them for samples of their music selections.  Although many Bands and DJ companies offer videos, these can be very difficult to judge how good they truly are once they are edited.  They may also suggest or ask you to "crash" an actual wedding reception to see them; a very poor practice.
The best way to judge a prospective band or disc jockey is to arrange a personal face-to-face meeting with them in their studio.  This will allow you to determine if you'll be comfortable with them and to get a feel for their personality.  You will be able to assess their appearance, speaking ability, music IQ, and reception knowledge.  You'll also be able to judge the quality of the sound system and preview any light show.  In addition to the live preview, ask the companies for 5-7 references of past clients who have used them specifically.  Call the references and ask about the quality of their performance.
Overall, any band or DJ company should provide you with a Reception Planner or checklist so you can choose the events you want to occur at your reception.  They should also provide you with a music play list so you can select the songs you want played and they should accept music requests from your guests that night to help you "read the crowd."
Lastly, a contract should be used so that everything is agreed to in writing.